Localities and lodging
Uganda
Entebbe
Entebbe is a laid-back summer lake resort along the Lake Victoria. It was the administrative capital of Uganda in the colonial era. It has the only international airport in Uganda.
Accommodation:
Golf View Inn. Small but clean s/c rooms with a hot bath, rather overpriced but not bad value for Entebbe. Acceptable restaurant and a shady garden bar. (Category: budget).
or
Central Inn. Pleasant suburb location, good value. (Category: budget).
Mabira Forest Reserve
Extending over more than 300km2 this reserve straddles the Kampala–Jinja road about 20km west of Jinja, and 55 from Kampala. It is primarily composed of moist semi-deciduous forest, with more than 200 identified tree species. There is also grasslands and papyrus swamps. A lot of the forest was destroyed in the colonial era and in the Amin era. But since 1988 it has recovered well through replanting of indigenous tress, and the illegal felling has practically ceased.
There is an excellent network of forest trails emanating from the visitors centre, with good birding. Over 300 species has been recorded. There is a local bird guide, Ibrahim Senfuma.
Soroti
Soroti, with a population of 42 000, is the headquarter of a district of the same name. It is mainly populated by Iseto people. There is a good number of trucks that rumble through town, we are on the main drag to the Sudan border, and apparently southern Sudan is going through a building boom now that the fighting has stopped and they are semi-autonomous. You also see lots of World Food Program trucks heading for the north of Uganda with food for the IDP camps.
Accommodation:
Soroti Hotel. Tel 0414 561269. Recently renovated hotel in pleasant grounds about 1 km out of town.
There are about 10 other places to stay in town, for example the Golden Ark and the Garden Guesthouse.
Lake Bisina
This is where the only truly endemic bird species of Uganda occur, the Fox's Weaver.
Masindi
Masindi is a sleepy small town of 15 000 inhabitants and the gateway to Murchison Falls and Budongo Forest. During the colonial era it was a busy hub between Uganda, DRC, Sudan and the railway to Mombasa. Now the border to DCR is closed, and north westernmost Uganda an area of unrest. Recently the border to Sudan has opened again; maybe this will make a change.
Accommodation:
Masindi Hotel. A colonial-era hotel from 1923 1 km outside town in attractive wooden grounds. Refurbished after 2000 but a bit overpriced. (Category: moderate).
Alternatives:
Court View Hotel. Recently opened. Bandas with nets and hot water. (Category: budget).
Alinda Guesthouse. A budget option in town centre.
Murchison Falls National Park
This is the largest protected area in Uganda; 3840km2. The national park previously formed part of the Bunyoro Game Reserve, which was proclaimed in 1910 following the evacuation of the human population during a sleeping-sickness epidemic. Then the national park in its modern form was proclaimed 1952. The altitude span between 619 and 1292 metres, which is low lying by Ugandan standards, and it is one of few tourist areas that regularly becomes hot. The average annual rainfall of 1085mm compares to other East African savanna ecosystems. The Victoria Nile divides the park into two equal parts. North of the river, the vegetation broadly consists of tall, green grassland interspersed with isolated stands of borassus palms, acacia trees and riverine woodland. South of the vegetation type is mainly denser woodland.
In the 60's it was one of the best renowned parks in East Africa – with its waterfall, prolific game and outstanding lodges. The elephant population then was the highest in Africa, 14 500, too many for the park, and planned to be decimated with 3500. Then the Amin era followed, and poachers and the military wiped out most of the wildlife. By 1990 fewer than 250 elephants remained. In recent years the population of most species has recovered greatly, there are now over 1 100 elephants. In total, 76 mammal species have been recorded. The bird list consists of 460 confirmed and 19 unconfirmed species. The Shoebill is most common along the Nile between Nile Safari Camp and the estuary into Lake Albert. 53 raptor species has been recorded.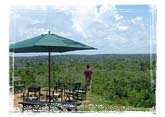 Accommodation:
The former Paraa Rest Camp is situated on the south side of the Nile, in a patch of bush frequented by Warthog, Bushbuck and a wide variety of birds. The accommodation is in self-contained and brick bandas provided with electricity, fans and mosquito nets. The bar has a fridge and nice views (see photo), and the restaurant serves decent meals. The camp enjoys a strategic location close to the Paraa Jetty, just 500 metres away. (Category: budget).
Budongo Forest
Budongo Forest Reserve covers 790km2 and is one of the most extensive and ecological diverse in East Africa, with impressive buttressed giant mahoganies reaching up to 60m tall. The population of 800 chimps is the largest in Uganda. 366 bird species has been recorded, among them 60 west or central Africa specials. The Royal Mile is regarded by some as the single best birdwatching site in Uganda. The main road past Busingiro also offers superb birdwatching.
Kanyiyo Pabidi Forest
is the second largest of the four forest blocks within the Budingo Forest Reserve. It covers 268km2 and is an extension of the main Budongo Forest. The two forests are linked by a forested corridor crossing the Paraa road. It has never been logged and therefore contains a higher proportion of large buttressed trees. A good place for birding is the campsite, were Puvel's Illadopsis is very common.
Semliki National Park
This 220km2 NP was gazetted in 1993, prior to which it was more widely known as the Bwamba Forest. Situated within the Albertine Rift at an average altitude of around 700m, the NP is bounded to the NW by the Semliki River, which runs along the Congolese border into Lake Albert, and to the east by the Fort Portal–Bundibugyo road. The forest is practically unspoilt and is an extension of the vast Congolese Ituri Forest that stretches all the way to the Congo River.
Considering its small size it protects an extraordinary faunal diversity. 435 bird species, most of them forest birds, and roughly 45 species that occur nowhere else in Uganda.
The mammal list of 35 is far for complete, including no nocturnal primate or small carnivore. 11 mammal species in the list occur nowhere else in Uganda.
Trails: Kirumia River Trail, Mungiro Waterfall Trail and Sempaya Hot Springs Trail.
The 5 km stretch of the main road between Sempaya and Ntandi is also excellent, with better views than in the forest.
Tourist attractions in the area are the Sempaya hot springs and the Ntandi pygmy village.
There is basic lodging in Kirimia (Kirimia Guesthouse) and the NP Bandas and Campsite halfway between Sempaya and Ntandi. A better option for birdwatchers though (who wants to get into the forest early) is to stay at a decent hotel is in the village Bundibugyo, 10 km from Kirimia.
Accommodation:
Hotel Vanilla. The newest and best option in Bundibugyo, 7 clean s/c rooms plus rooms using common showers. Amenities: 
Local restaurants offer standard meals in town. The market has basic foodstuffs on sale and locally grown fruit. Sodas and beers are also readily available. At night the town plunges into complete darkness. There is no electricity supply in town.
If you instead stay at Semliki Safari Lodge in Semliki WR, probably the most luxurious bush retreat in Uganda, you have to drive at least 90 minutes to get to Kirimia, longer after rains.
Semliki Wildlife Reserve
This 545km2 sanctuary, Uganda's oldest wildlife reserve, was originally gazetted in 1932 as the Toro Game Reserve. The dominant vegetation type is open acacia-combretum woodland and grassy savanna, interspersed with patches of borassus palm forests, significant belts of riparian woodland along the main watercourses, as well as some extensive swamps towards Lake Albert.
Semliki's wildlife was heavily poached during the civil war, and it only really started to recover from the slaughter following the opening of Semliki Safari Lodge in 1997.
As an example, Uganda Kob had an estimated population of more than 10 000 before the Amin era, plummeted to below 1 000 in the early 90's, but today number about 8 000. In general, game viewing is more impressive in Queen Elisabeth and Murchison Falls national parks. If time permits we will visit this reserve, but probably not, since we will concentrate our efforts on the many specialities in Semliki NP.
Kibale Forest National Park
This park probably has the greatest variety of primates (13 species) in all East Africa. Gazetted in October 1993, the 766km2 NP extends southward from Fort Portal to form a contiguous block with the Queen Elisabeth NP. Interspersed with patches of grassland and swamp, the dominant vegetation type is rainforest, spanning altitudes of 1100-1590m and with a floral composition transitional to typical eastern Afro-montane and western lowland forest.
There are at least 60 species of mammals, but many of these are hard to spot in the forest.
Roughly 335 bird species have been recorded in Kibale Forest, including four species not recorded in any other Ugandan park: Nahan's Francolin, Cassin's Spinetail, Blue-headed Bee-eater and Masked Apalis. Otherwise the avifauna reminds of Semliki, except 40 Semliki specials and adding a higher variety of water and grassland species. Green-breasted Pitta was sighted here recently, while Prigogine's Ground Thrush was collected once in the 1960s. The best birdwatching spot is the Bigodi Wetland Sanctuary.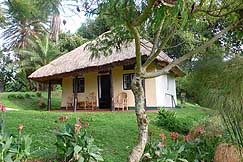 Accommodation:
Chimpanzee Guest house. Located just inside the NP, 23 km from Fort Portal and 10 km from Kanyanchu Tourist Centre. 500m from the NP HQ. Panoramic view from the 100-acre site. Established in the 1950s, during the colonial period by the British District Commissioner. Accommodation in twin bed bandas or in self-contained cottages.
Queen Elisabeth National Park
Uganda's most popular and accessible savanna reserve. 1978km2. 95 mammal species, among them 10 primates and 20 predator species. More than 610 bird species have been recorded, possibly the highest for any NP in Africa. 54 raptors, all Ugandan waterbird species and a variety of woodland and forest birds are found.
Accommodation: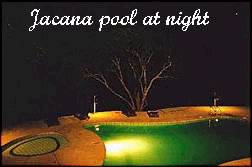 Jacana Safari Lodge. In the SE sector. Own by geolodges, who also run Nile Safari Camp in Murchison Falls and the new Mabira Lodge. 8 luxurious wooden doubles with private verandas overlooking the crater lake Nyamusingire, and the bar and restaurant is suspended over the lake. Pool. Reasonably priced. Good food. (Category: upmarket).
Bwindi Impenetrable National Park
This forest is regarded to be one of the most biologically diverse forests in Africa, largely due to its age (before the Pleistocene Ice Age, making it over 25 000 years old). Altitude 1160-2607m. A true rainforest, with annual rainfall of almost 1500mm.
Slightly more than half of the world's mountain gorilla population is resident in Bwindi: an estimated 320 individuals living in 15 troops.
There are at least 120 mammal species, most of them smaller mammals such as rodents and bats.
350 bird species, almost all forest species, is a remarkably high figure.
Accommodation at Ruhija:
The Institute of Tropical Forest Conservation (ITFC) Guest house is the only option in Ruhija. The small hotel has two four-bed rooms with basics outside the building. At 2340 metres it can get chilly.
Ruhija was the headquarter for the Impenetrable Forest Reserve before it was gazetted NP in 1991. Few tourists come here, and it is a quet and beautiful place.
Accommodation at Buhoma:
Buhoma Community Rest Camp. Inside the entrance. 6 bandas of different class, all with solar-powered light. Basic 3-course dinners can be ordered in advance. (Category: budget).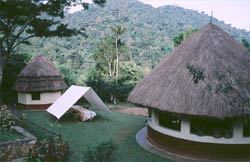 Mgahinga Gorilla National Park
Mgahinga NP protects the Ugandan part of the Virunga Mountains. It is the smallest NP in Uganda, only 33km2, but is connected to similar reserves in DRC and Rwanda. There are 76 species of mammals and only 115 bird species, probably due to the parks small size and lack of serious study of the avifauna. But 12 Albert rift endemics occur.
No gorillas live permanently in the park, despite its name, but they move freely between Rwanda and Uganda.
Accommodation in Kisoro: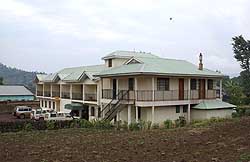 Kisoro Tourist Hotel. 15 rooms. New multi-storey hotel in a grassy compound close to the NP office. Large bright rooms, TV, hot showers and balcony. (Category: moderate).
Echuya Forest Reserve
Extending over 340 km2 of hilly terrain at an elevation 2200-2600m Echuya is one of the least-visited and most under-researched reserves in Uganda, yet it is still ranked among the top 6 sites in the country in terms of forest biodiversity. A surprisingly low bird list of 100 species suggests that more work here is needed. The adjacent Muchuya Swamp harbours the largest known population of Grauer's Swamp Warbler.
Lake Maburo National Park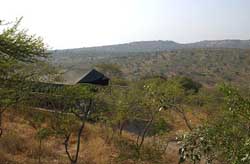 One of Uganda's smaller national parks, Lake Mburo extends over 260 km2 of undulating territory with an altitude of 1220 – 1828 m. The annual rainfall of 800 mm is relatively low, but 20 % of the park is wetland. The remainder of the park consists of open savanna and acacia woodland. Good place for acacia-associated birds and papyrus specialists. 315 bird species recorded.
Accommodation:
Kimbla-Mantana Tented Camp. This is a classic luxury tented camp. 9 walk-in tents on raised wooden platforms with great views. Full breakfast, 3-course lunches, and 5-course dinner. (Category: upmarket).
Mabamba Swamp

15 km west of Entebbe, but 40 km by road. 100 km2 of shallow, marshy bay on the northern shore of Lake Victoria. The villagers at the small lakeshore village of Mabamba offer dugout trips into the swamp and are usually capable of locating shoebills within a few minutes.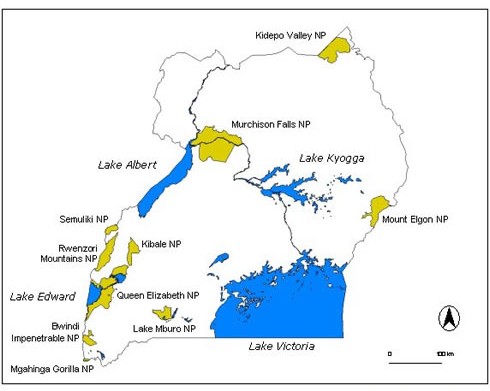 ---
Localities in Rwanda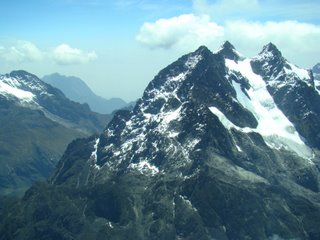 Volcanoes National Park (Parc National des Volcans)
This 160km
2
NP protects the Rwandan sector of the Virunga Mountains, a range of six extinct and three active volcanoes which straddles the borders with Uganda and the DRC. The Volcanoes NP is part of a contiguous 433km
2
conservation unit that also include the Virungas NP in DRC and Mgahinga NP in Uganda. The tallest mountain in the range is also the most westerly; Karisimbi (4507m), on the border with DRC. Dian Fossey worked in the park for 20 years, before she was murdered in 1985. The park has been opened and closed several times, especially during the genocide, but is now open on a permanent basis since July 1999.
Little information is available on the current status of other mammals than the gorillas, and the bird list from 1980 is only 180, but a survey in 2004 gave 15 new. A local speciality is the vulnerable swamp-dwelling Grauer's Rush Warbler, while at least 16 Albertine Rift endemics are present, including Handsome Francolin, Rwenzori Turaco, Rwenzori Double-collared Sunbird, Rwenzori Batis, Strange Weaver, Dusky Crimson-wing, Collared Apalis, Red-faced Woodland Warbler and Archer's Ground Robin.
Gorilla tracking remains the most poular activity here, with a total of up to 40 permits issued daily, eight for each of the five habituated troops. There is also a habituated troop of the near-endemic Golden Monkey.
It is 13 kilometres between the park HQ at Kinigi and Musanze/Ruhengeri.
Accommodation in Musanze (formerly Ruhengeri):
Moderate:
Hotel Muhabura (15 rooms). The smartest hotel in town. Doubles and apartments.
Palmer Hotel (no info).
Centre Pastoral Notre Dame de Fatima (35 rooms). Opened 2004. Clean. Internet café.
Luxury: Ikoro Tented Camp, due to open in 2007.
There are at least 6 budget hotels also.
Nyungwe Forest National Park
Extending for 970 km2 over the mountainous southwest of Rwanda, Nyungwe protects one of the largest tracts of montane forest remaining anywhere in East or Central Africa, forming a contiguous forest block with the 370 km2 Kibara NP in Burundi. As comparison the Gishwati Forest in NW Rwanda has diminished from the size of Nyungwe to only 6 km2!
The biodiversity is extremely high. Some examples: Over 1050 plant species, including 200 orchids and 350 Albertine Rift endemics. 85 mammal, 278 bird, 32 amphibian and 38 reptile species, 120 butterfly species. 13 species of primates, with a population of at least 500 chimpanzees. The annual precipitation is over 2 000mm. The elevation is between 1 600m and 2950m.
Nyungwe is probably the single most important birdwatching destination in Rwanda, with more the 280 species recorded, of which the majority are forest specialists, and 26 regional endemics. Birdwatching here can be rather frustrating, since the vegetation is thick and many birds tends to stick to the canopy up to 60 metres above the ground, but almost everything you see ranks as a good sighting. There are also 13 species of primates, 25 % of Africas total number of species.
Trails: Uwinka and the coloured trails, the Waterfall Trail, Gisakura tea estate, Kairanzovu Trail, Bigugu Trail.
Accommodation in Nyungwe:
Gisakura Guesthouse.
Situated on the Gisakura Tea Estate (elevation 1953 m), about 1 km back towards the forest boundary. It is not possible to book in advance - and the man with the key isn't always present. In addition to 4-bed dorm-style accomodation, there is a communal lounge, beers and sodas are available at the nearby estate canteen, and meals can be arranged with a few hours notice. The guesthouse lies less than 500 m from the forest patch were a troop of 40 habituated, easy-to-see colobus are resident, and the area offers good birding. (Category: budget).
Akagera National Park
Rwandas answer to the famous savanna reserves in Kenya and Tanzania, with warm and low-lying broad-leafed woodland or candelabra euphorbias. Elevation 1600-1800m.
Poaching has greatly reduced the game, and the most common mammal is domestic cattle being watered in the lakes. But there is high numbers of hippos, and you find buffalo, elephant, zebra, giraffe, lion, leopard and black rhino in the park. Interestingly Akegera has been geographically isolated from the eastern savannas, which was emphasised by the natural absence of widespread plains animals such as rhino and giraffe, both of which were subsequently introduced. Due to human pressure refugees occupied the north part and in 1997 the park size was unfortunately reduced by two-thirds from 2 500km2 to 1 085km2. It now stretches for 60 km along the Tanzanian border and is about 30 km wide.
But the bird life is phenomenal – the checklist of about 525 species includes a surprising density of raptors and some of Africa's most impressive concentration of big waterbirds. The total checklist is 550, but that was before the 2/3rd reduction of the area. It complements Nyungwe to such an extent that very few birds recorded in Rwanda aren't found at one or other site. Akagere is especially good for waterbirds, papyrus endemics and Brachystegia woodland species from southern Africa which reach their northern limit here. There are probably 15-20 pairs of Shoebill, but they are very difficult to see. There are malaria mosquitoes in Awatere. Tsetse flies can give a painful (but harmless) bite. Insect repellents have little effect, but it is worth noting that they are attracted to dark clothing, especially blue.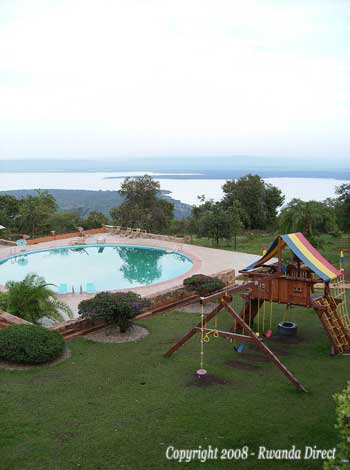 An accurate colour map is sold at the gate. The numbered junctions shown on the map help with navigation.
Accommodation:
Akagera Game Lodge (former Akagera Hotel) is unfortunately CLOSED in February due to rebuilding. We will stay at a hotel in the town closest to the National Park.
Akagera Game Lodge. 60 rooms. Reopened in 2003. A smart lodge on a hilltop with superb view over Lake Ihema into the hills of Tanzania. Luxury rooms, good restaurant, swimming pool and good service. Filling breakfast can be served at 5:30. (Category: upmarket).