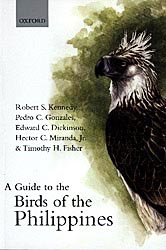 Kennedy/Gonzales/Dickinson/Miranda Jr./Fisher, Guide to the Birds of the Philippines
2000. Hft, 370 s, 15x23 cm.
572 arter (varav 172 endemer) presenteras på 72 planscher med kortfattad text och totalt 500 utbr.kartor på motstående sida. De fylligare texterna i andra halvan av boken omfattar bl a lätesbeskrivningar & beteende.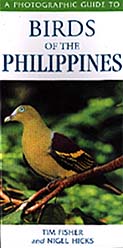 Tim Fisher & Nigel Hicks, Photographic guide to Birds of the Philippines
Hft, 144 s, 10x19 cm.
Kompakt format och symboler som underlättar snabbt sök. De vanligaste arterna presenteras i färgbild av god kvalitet och kortfattad text som även inkluderar läten.
BACK
---
Created 12 Feb 2006, Erling Jirle, webmaster. Updated 12 Feb 2006.