FACTS ABOUT THE PHILIPPINES
Country name: Republic of the Philippines (Republica ng Pilipinas)

Status: Republic, divided in 79 provinces and 117 chartered cities

Independence: 12 June 1898 (from Spain)

President: President Gloria Macapagal-Arroyo (since 20 January 2001)

Size: 300 000 sq km, (Sweden is 449 964))

Population: 87.9 mill. (July 2005 est.) (Sweden 9 mill.)

Capital: Manila

Time: +7 hours from CET

Electricity: 220 Volt, 60 cycles AC (plugs with 2 rectangular pins; ungrounded, or grounded with an extra round pin type A and B, but there is also type C, same as in Sweden. Power cuts are common, called "brownouts". Use AVR* for laptops and sensitive equipment (* strömutjämnare).

Weights and measures: Metric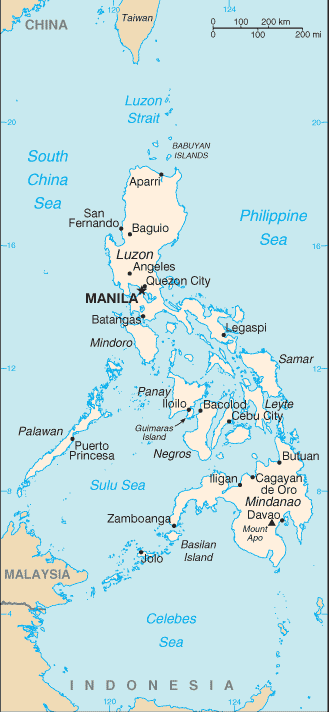 Currency: Philippine Peso (PHP). Rate 1 SEK = 6.2189 Peso 10 Feb 2006 at;
Forex. They sell Peso. Another currency converter is Oanda.
Only foreign cash you should bring is USD. Credit cards accepted in larger hotels and in tourist areas. ATM:s in cities, especially in shopping malls or at banks.

Tipping: P10 or smaller coins. Less than 10 % in expensive restaaurants. Price++ in restaurant means that 10 % VAT and 10 % service will be added; P500++ = P600.

International telephone code: +63

Communications: Mobile phones; GSM/Triband is needed + roaming agreement with your home operator. But you can also buy local sim-cards from Smart, Globe or Sun. P150-170 + a prepaid call card for P300 or P500. Domestic calls P6/minute. SMS has taken over voice and e-mail for most Filipinos; 200 million SMS/day are made !! (world record). 1 SMS = P1. Internet cafés charge P20-P50/30 minutes, only modems in some rural areas.

Language: Two official languages - Filipino (based on Tagalog) and English; eight major dialects - Tagalog, Cebuano, Ilocano, Hiligaynon or Ilonggo, Bicol, Waray, Pampango, and Pangasinan

Religions: Roman Catholic 80.9%, Evangelical 2.8%, Iglesia ni Kristo 2.3%, Aglipayan 2%, other Christian 4.5%,
Muslim 5%, other 1.8%, unspecified 0.6%, none 0.1% (2000 census)

Ethnic groups: Tagalog 28.1%, Cebuano 13.1%, Ilocano 9%, Bisaya/Binisaya 7.6%, Hiligaynon Ilonggo 7.5%, Bikol 6%, Waray 3.4%, other 25.3% (2000 census). Over 90 % of the population is beleived to be of Malayan origin.

Festivals & public holidays: No big ones during our stay.

Highest mountain: Mount Apo (on Mindanao) 2 954 m

Climate: Tropical marine. Two seasons: Wet season (southwest monsoon, habagat) May - Oct. Dry season (northeast monsoon, amihan) Nov - April.
Areas facing NE - for example Siargo in Mindanaao have no clear-cut dry season and see their heaviest rains Nov - March, while most of the rest of the country basks in hot sunshine.
Typhoon season starts in May. 5-6 heavy typhons per year, and 10 smaller in the area. Palawan in the west get hit of few typhoons. In Mindanao there is less rain and no typhoons in the wet season May - Oct.
Jan & feb coolest. March - May very hot, expect sunshine all day and temperatures up to +36.

Average temp. & rainfall in March:
Manila (C Luzon) 28.5 C & 0.58 mm rain
IIolia City (Panay) 29 C & 1.1 mm rain
Baguio (N Luzon) 20.5 C & 1.1 mm rain
Siargao (NE of Mindanao) 26 C & 16.3 mm rain.

Health:
HIV/AIDS - adult prevalence rate: 0.1 % (same as Sweden).
Dengue fever: during or just after wet season. No vaccianation available.
Malaria: Southern Palawan, Sulu archipelago, parts of Mindanao. Resistance to chlorquine in Palawan and Mindanao = Lariam.
Lymphatic filariasis: very rare. Mosquito borne. No vaccin available.
Japanese encephalitis: May - Oct. Low risk. Vector is Culex mosquitos in rice fields.
General mosquito protection: Long sleeves and trousers, repellent with DEET (="Mygga"). Impregnated mosquito net.
Leeches: Mainly in rainy season. Protection: Trosers stuck into the socks, soap with water on the outside and on legs. Or Djungelolja. Take away leeches with salt or Djungelolja. Use antiseptics for bites, to avoid infection.
Rabies: A problem. 800 dead/year. Never touch dogs, also lethargic and sleepy dogs can have rabies. If scratched or bitten, wash with soap and water and go to hospital.
Sunstroke, sunburn, dehydaraation: Avoid tea, coffee and alcohol in daytime, drink water or sports drinks instead.
No vaccination certificate neccessary for travellers directly from Europe.
More info: www.triprep.com Security: The guerilla operates mainly in W, S and C Mindanao and Sulu archipelago. Parts of Metro Manila are unsafe. Latest updates from UK Foreign Office.
---
BACK
Compilated by Erling Jirle, 11 Feb 2006. Most of the facts from the Rough Guide, who has taken most of the figures from the CIA Factbook.