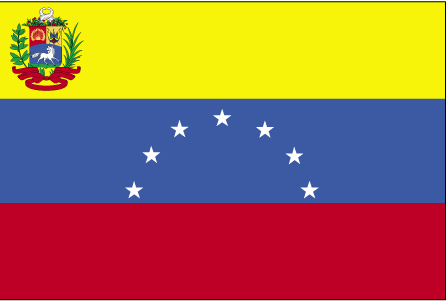 FACTS ABOUT VENEZUELA
Country name: Republica Bolivariana de Venezuela

Status: Republic, divided into 23 states (estados), a metropolitan district (distrito federal Caracas), and a federal dependency of 72 islands

Independence: 5 July 1811 (from Spain)

Chief of state: President Hugo CHAVEZ Frias (since 3 February 1999)

Size: 916 445 sqkm (Sweden is 449 964, so almost exactly half the size)

Population: 25,017,387 (July 2004 est.) (Sweden 9)

Capital: Caracas (4 mill)

Other major cities: Maracaibo, Valencia, Barquisimeto, Maracay, Cuidad Guayana

Time: -5 hours from CET

Electricity: 110 Volt, 60 cycles AC (plugs have a pair of flat pins)

Weights and measures: Metric

Currency: Bolivar (VEB). Rate 1 SEK = 272 VEB incl. 2% credit card charge 17 Nov 2004 at;
(valutaomvandlare oanda.com)
And USD lowest to SEK in a long long time 17 Nov; 1 SEK = 7:045 USD incl. 2 % (6:906 without)

International telephone code: +58

Language: Spanish. More than a dozen Indian languages spoken by ethnic groups

Religion: Nominally Roman Catholic 96%, Protestant 2%, other 2%

Climate: Tropical; hot, humid; more moderate in highlands

Terrain: Andes Mountains and Maracaibo Lowlands in northwest; central plains (llanos); Guiana Highlands in southeast

Highest mountain: Pico Bolivar (La Columna) 5,007 m

Worlds highest waterfall: Angel Falls in the Guiana Highlands (979 m)

Natural resources: Petroleum, natural gas, iron ore, gold, bauxite, other minerals, hydropower, diamonds

Carnival 2005: First day is 7 Feb (Monday), second day 8 Feb if my info is correct. Probably crowded in Caracas already the weekend 5-6 Feb (we arrive 4 Feb and leave directly for El Limon). In Merida a ten day "Ferie del Sol" around Ash Wednesday (around 22 Feb 2005).
---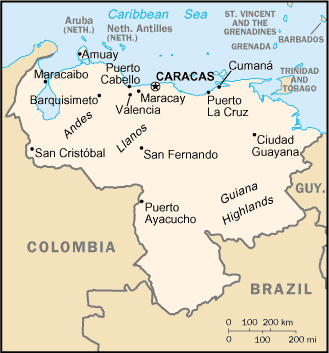 ---
BACK
Erling Jirle, 18 Nov 2005.