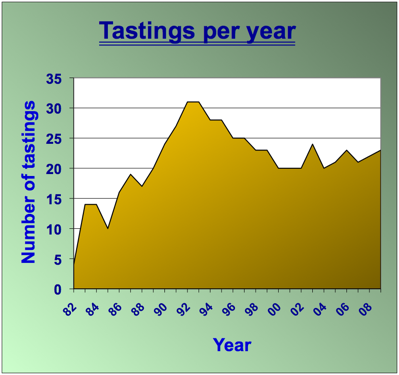 The Beer Club Voertstyrkan*
Ratings of 3500 beers from 115 countries

This society started 1982 in Lund, Sweden. We meet every second or third week when we try at least 6 new beer. Only the host for the meeting knows what's in the glasses. No home brews or beer on tap are tasted.
The participants give marks from 5 (exceptional) to 1 (undrinkable) and rank the beer. When everybody has given their judjements on all the beers, the average mark for each beer is calculated. Then the beer is presented.
After that there's free drinking and eating (potato chips and dipping sauce, etc).
The participants in the club travel quite a lot and bring home beer from all over the globe.
We also get some beer by friends, see the list of "sponsors" below.
After Sweden joined the European Union in Jan 1, 1995 the Swedish monopoly (Systembolaget) has increased the number of beer, and for example in January 1998, offered over 280 different beers.
Before Jan 1 beer stronger than 5,6 vol. % was not allowed to sell (we had to buy it in Denmark or elsewere) but nowadays Systembolaget sells tasty Belgian 11 % Kloster beer.
Despite the travel and the sponsors there are a number of countries we have never tried; Andorra, Surinam and a lot of African countries like Benin and Ivory Coast.
We are interested to get hold of a bottle or two from any of these countries. See the country list to see which we are missing. Missing countries are with bold.

MEMBERS:

Erling V. Jirle (Permanent Secretary, homepage, e-mail), Claes-Göran Dahl, Sven Denbert, Fredrik Haas Paul Eric Jönsson, Nils Kjellén & Rune Svensson.

EXTRAMURAL MEMBER:
Peter Sundin, Uppsala.

FORMER MEMBERS:
Björn Aksell, Per Andell, Elsa Hansen, Torsten Gunnarsson, Katarina Hedlund, Anders Karlsson, Ulf Ottosson, Olof Persson and Vesna Stefan.
John Rodney -2001

SPONSORS:
Dainius Plepys, Karin Johnson, Olle Anderbrant, Christer Löfstedt, Ann Södergren, Dehbia Abed, Peter Valeur, Marcus Stensmyr,
Hong-Lei Wang, Glenn Svensson, Camilla Ryne, Lars Thoma, Jan-Thomas Johansson, Lars 08 Jonsson, Håkan Eriksson, Jean-Marc Lassance, Margareta Truedsson-McKenna, Linnéa Svensson and Rolf Ahl.
---
GENERAL EXPLANATION TO THE LISTS:
mean or m = mean value of the rating (5 is exceptional, 1 is undrinkable)
Country (bought) = brewing country (purchasing country, if different)
n = number of times tasted
vol % = volume percent, or alcohol by volume (ABV.)
no./date/n = tasting session no./date/number of participants.
* Vörtstyrkan means:
"The Wort Force".

Site created Oct 30, 1995.
Updated 15 Aug 2015.
Erling Jirle
Next tasting:
Communicated only by
means of e-mail
BACK TO
START PAGE